HAPPY 7th AVA FESTIVAL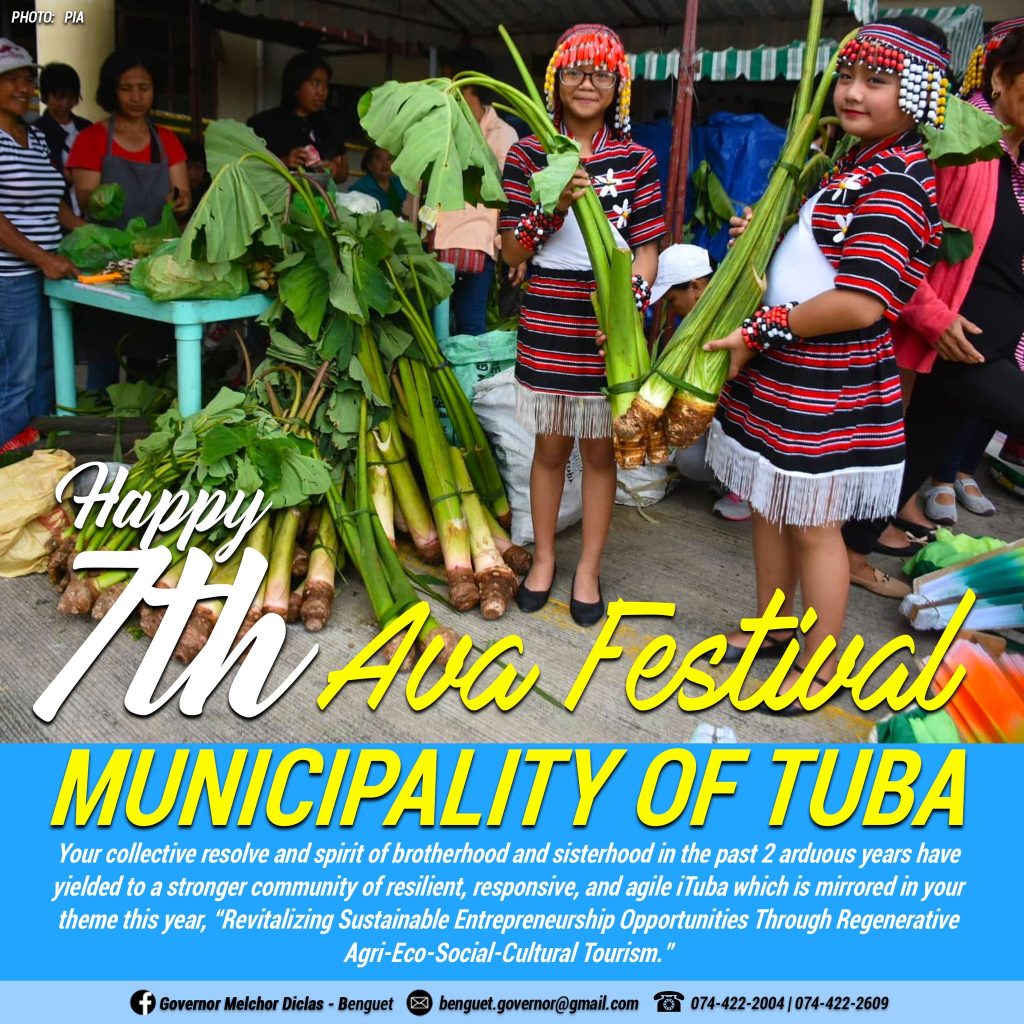 I would like to extend my heartfelt congratulations to the friendly, culture-loving, and amazing people of the municipality of Tuba on the occasion of the town's 7th Ava Festival.
Your collective resolve and spirit of brotherhood and sisterhood in the past 2 arduous years have yielded to a stronger community of resilient, responsive, and agile iTuba which is mirrored in your theme this year, "Revitalizing Sustainable Entrepreneurship Opportunities Through Regenerative Agri-Eco-Social-Cultural Tourism."
Ava is a significant part of our culture. It played a vital role in shaping our history by sustaining the healthy lives of our ancestors. We may credit ava to one of the indigenous foods that gave longevity to our kaapu-an because of its high levels of vitamin C, vitamin B6, and vitamin E which help maintain a healthy immune system. Besides this, the fiber and resistant starch in ava are also believed to reduce risk of heart disease. No wonder why our elders are stunningly strong and vigorous, thanks to ava!
This nourishing and beneficial indigenous food is deeply rooted to our way of life, and so it is part of our identity as iTuba; therefore, there is no way we should not sustain and promote it, and even use it for the economic development of your municipality.
I believe that with your creativity and innovativeness, you can take ava to the next level aimed at providing more opportunities for livelihood and tourism. I also hope for a continued partnership with you through our Provincial Tourism Office for the development of Agri-Eco Tourism in the Province.
On behalf of the Provincial Government of Benguet, I express our strong support and deepest appreciation to the Municipal Government of Tuba headed by Mayor Clarita Sal-ongan, Vice Mayor Maria Carantes, and the entire SB members, for the successful preparation and holding of this momentous celebration.
We commit our support to all the efforts and endeavors of Tuba LGU in promoting our local culture and tourism, and in providing more economic opportunities to our beloved constituents.
Agbiyag iti Tuba! Happy Ava Festival!
Melchor Daguines Diclas, MD
Provincial Governor